Most chemical processes contain chemicals that are flammable, toxic or reactive. Process Safety Management (PSM) is a management system comprised of policies and procedures that are used to control the hazards of these chemicals. All chemical companies have had methods for controlling the hazards of chemicals for many years, although few called it process safety management. However, the methods used varied from company to company in methodology and effectiveness. Failure to have an adequate Process Safety Management system is frequently a root cause of catastrophic incidents.
Process Safety Audits
Process Safety deals with the design, operation, maintenance, and management of a process in a manner such that the risks and hazards to the employees, the public, and the environment are minimized. The guiding principles of process safety require that Recognized and Generally Accepted Good Engineering Practice (RAGAGEP) be used. These practices are specified in numerous consensus standards from professional organizations (i.e.: AIChE, ASME, NFPA, etc.) and have become law in many cases under OSHA's PSM regulation and EPA's RMP rule. These practices have been used for a long time; even before the OSHA and EPA regulations were promulgated because many companies recognized that the use of them provided financial rewards. Many managers have recognized that processes which operate safely and reliably usually also have high productivity, minimal incidents, high product quality, and reduced costs. These managers embrace the concept of RAGAGEP and insist that the methodology is fully implemented.
I offer over forty years of experience in developing and using process safety in the design, operation, maintenance, and management of processes and facilities. Areas of expertise include: Process Hazards Analysis, Risk Assessment, Process Safety Information, Technology Safety Data Sheets, Operating Procedures, Maintenance Procedures, Training, Incident Investigation, Emergency Planning and Response, Emergency Response Data Sheets, Continuous Improvement, Management of Change, Work permits, Pre-Startup Safety Review, Employee Participation, Contractor Safety, Inherent Safety, and Auditing. A comprehensive auditing protocol is used to determine: the degree to which RAGAGEP has been used, OSHA's PSM regulation compliance, EPA's RMP rule compliance, and to identify gaps and areas for improvement. Assistance is also available in closing any identified gaps, or in providing guidance on how to do the work yourself.
During my career, I have performed or supervised all of the elements of Process Safety Management and understand what is required to have an effective program.
On October 23, 1989, there was a massive explosion at the Phillips Petroleum Company Houston Chemical Complex that resulted in 23 deaths and kick-started OSHA's Process Safety Management regulation.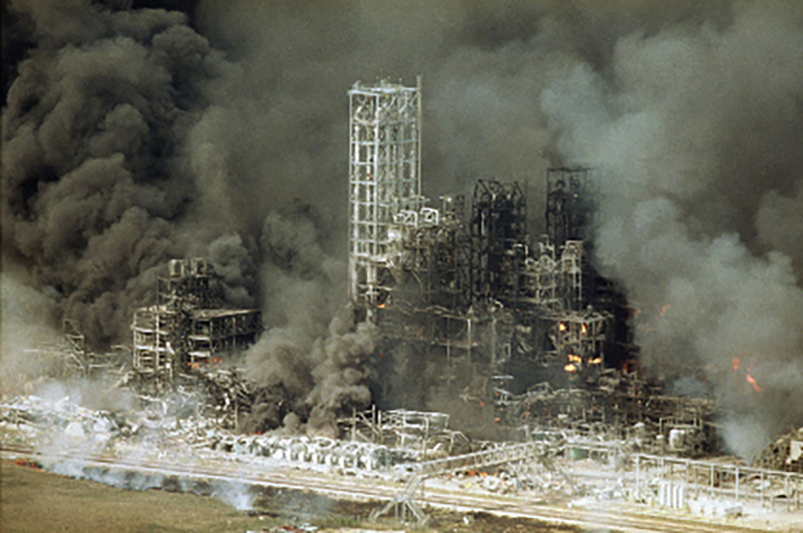 The fire and explosion that sparked the PSM regulation (Photo from U.S. Fire Administration report)